Ref:
Date:
Location:
Photographer:
Ref:
Date:
Location:
Photographer:
Residency
Throughout 2016 Richard was resident artist in
Lea & Paget's Wood
, an ancient broadleaf woodland owned by Herefordshire Wildlife Trust. Gallery of work produced type="Gallery" id="690828"]here[/link].
30th December: Fog with water dripping down constantly. A rather wet experience to end my year's project, cheered by the company of an inquisitive robin.
22nd December: Still air, cold and damp. Drew and painted this ash with its vibrant skirting of moss and an ivy creeper winding sinuously up its trunk.
27th November: Leaves swirl down almost constantly but there is still plenty of rich autumn colour. I am visited by a flock of long tailed tits as I work in the chill breeze.
7th November: Beautiful day, the sun catching the trees across the valley to create a tapestry of gold between the nearby trees. Falling leaves glide and swirl in balletic formations.
28th October: Remarkably still today, the morning sunshine flaming the cherries at the edge of the wood. Visited by a bumblebee as I drew by the quarry, a happy reminder of Dave Goulson's talk last night.
23rd October: A very different energy about the woods now that autumn is in full swing. A stag calling, hazel, ash and field maple turning a rich butter yellow and steady leaf fall.
26th September: I'm always surprised by the intensity of light in the woods when it's raining. The air is fresh, cool and earthy and the mosaic of greens and yellows is delightful.
23rd September: Autumn equinox yesterday, and the wood is already changing. Masses of fungi from clusters of tiny forms on dead wood to this free standing fungus with a cap larger than my spread hand. Anyone know what it is?
27th August: I stay into the evening. As the light fades the woods soften and blur, appearing to close in around me - not in a threatening way, but nevertheless it feels edgy. Insufficient light for my camera so I made this watercolour from memory.
19th August: Sitting for an hour in the much needed rain, loud drops and splashes, drips and faint pitter pattering as the water finds its way down through the canopy to reach the ground. The wetness intensifies the myriad greens and browns, magical!
27th July: Woods very quiet and bathed in slanting shafts and pools of sunlight. Sat watching the light change into the evening, accompanied by a busy wren feeling two young on a nearby log.
16th July: Heavy, grey cloud and humid, the woods appear to be asleep. A day in the company of the 'Venerable Oak' nestled amid hazel coppice. Thunder flies nibbled relentlessly while a chiff chaff kept me company.
23rd June: Referendum day! Damp air, sky a pale pewter, rain brewing. Remarkably still with hardly a leaf moving, two tree creepers working their way silently up a mature hazel. Nearby ash trunk covered in parasol fungi.
12th June: Fresh,cool air after humid day and occasional downpour. Evening sun dodging the towering cumulo-nimbus hanging over the woods. Everything in gentle motion, moss luxuriant after the much needed rain.
31st May: A dappled day with a grizzled oak pollard, a huge split in its trunk, wonderful character! A small herd of deer peered at me through the foliage, and I watched fledgling nuthatches feeding with their parents.
17th May: Commitments have kept me away too long, I'm amazed by the profusion of greens with, to the west, a snowy mantle of ransom. The wood is alive with the sounds and movements of birds and insects, I am plagued by a swarm of biting black flies whenever I stop to draw.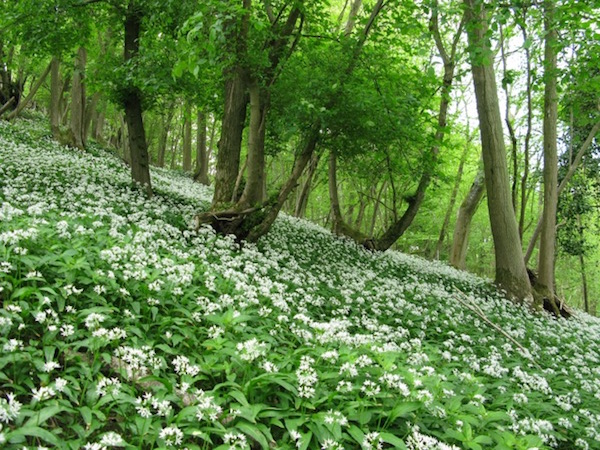 23rd April: Visiting with my wife and friends we found early purple orchids, orange tipped butterflies and this fascinating sculptural pattern in the sawn end of an fallen tree encased in ivy.
20th April: Fresh, sharp greens of ground plants and hazel leaves scintillating in the spring light and the air filled with the scent of bluebells. Continuous bird song, bees and deer both passed close by.
5th April: Bright sun and a light wind, wood anemones and early bluebells in profusion, a green woodpecker calling.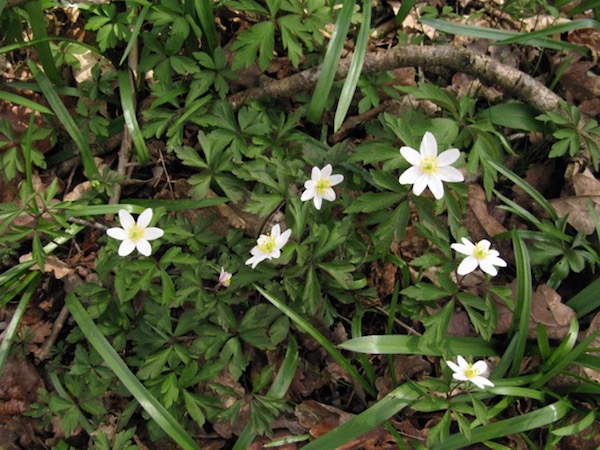 25th March: Sat drawing until after sundown, extraordinarily peaceful. Several patches of exuberant wild daffodils now in flower.
13th March: Leaf buds swelling and woodland floor already greening with dog's mercury and bluebell leaves. Drew this huge old wild cherry.
2nd March: Wandered around the newly created glade between the bridleway and Wye Valley Walk path. Beautiful clumps of primrose in bloom nearby.
18th February: Working below ridge on west side of wood, fresh smell of early spring in the air, a wonderful day.
10th February: Purple and grey storm clouds with intermittent sun. Drew and painted on the edge of the quarry looking west, moss a brilliant green today.
28th January: Sun, rain and chainsaws - the Thursday Work Party hard at it. The wood has a very open feel at this time of year, the form of the landscape visible in all directions. I am fascinated by how much a view can change with light and weather, this is the same view as 20th January!
20th January: Frost, fog and sunshine gradually burning through to create beautiful light. Met the Wednesday Work Party clearing felled trees and enjoyed the company of a greater spotted woodpecker at lunchtime
9th December: First full day in the woods, low cloud, splashes of bright yellow hazel leaves still clinging on, buzzard mewing overhead.